The largest circulation Armenian
e-magazine on the Internet
Circulates every Wednesday
Established in 1999
SWEDEN'S PRIME MINISTER
APOLOGISES FOR GENOCIDE VOTE
ANKARA (AFP) - Sweden's Prime Minister has called his Turkish counterpart to distance himself from a parliament move branding the massacres of Armenians by Ottoman Turks as genocide, Ankara said Sunday.
Sweden's Frederik Reinfeldt called Recep Tayyip Erdogan on Saturday evening to voice "his sadness and say that his government absolutely did not share the decision," Erdogan's Office said in a statement.
Blaming the vote on "domestic politics," Reinfeldt said his government was "ready to do the necessary so that this unfounded decision does not harm bilateral relations," according to the text.
The Swedish Prime Minister also assured Erdogan that the Parliament's move did not weaken Stockholm's support of Turkey's EU accession ambitions.
Going against the government's advice, the Swedish Parliament voted by a narrow margin on Thursday to recognise the "Genocide of Armenians" during the breakup of the Ottoman Empire.
Ankara quickly recalled its Ambassador and cancelled a visit by Erdogan to Sweden after the vote, which came just days after a similar move by a US Congressional panel.
In remarks to Sweden's TT news agency, Reinfeldt said that he had expressed to his Turkish counterpart "regrets following the Parliament's decision because it politicises history".
According to the Turkish statement, Erdogan "strongly insisted on the disappointment" felt in Turkey over the vote, while recognising that the government was against it.
He also called for "measures to repair the situation."
Press release:European Armenian Federation for Justice & Democracy
Brussels - Stockholm - March 11, 2010 - Spearheaded by a Swedish MP from the left party, Mr. Hans Linde, the Swedish Parliament adopted on
Thursday, March 11, 2010
a resolution recognising the Armenian, Assyrian/Syriac/Chaldean and Pontic Greek genocides. This makes
Sweden
the 11th European country to do so, following
Germany
,
Belgium
,
Cyprus,
Greece
,
France
,
Italy
,
Lithuania
,
Poland
, the
Netherlands
,
Slovakia
, as well as the European Parliament.

With this vote, the Parliament confirms that Sweden must recognise the 1915 Armenian, Assyrian/Syriac/Chaldean and Pontic Greek
genocide; that it must work with the European Union and the United Nations for an international recognition as well as with Turkey, so that the latter recognises these genocides.

"We congratulate the Assyro-Chaldean and the Pontic Greek populations, who along with the Armenians, were victims of genocide perpetrated by the Turkish government. We commend the Swedish members of Parliament for their courage against the pressures of the Turkish lobby" declared
Hilda Tchoboian
, President of the
European Armenian Federation
for Justice and Democracy.

The
European Armenian Federation
wishes to underscore that this vote, taken in spite of pressures and threats from the Turkish government, one week after the vote of the US House of Representatives, highlights the failure of
Turkey
's policy of denial.

"
Turkey
manipulated the public opinion by signing the protocols with
Armenia
in hopes of burying the Genocide issue; but its position became intolerable in the face of the inescapable pursuit for historical truth" announced
Hilda Tchoboian
.

The Federation calls on the Swedish government to apply the decisions of this parliamentary resolution in its bilateral relations with
Turkey
, but also in its European policy, by applying them in its official position regarding
Turkey
's accession to the European Union.

A DAY FOR CYPRUS
Cyprus tennis sensation Marcos Baghdatis defeats world number one Roger Federer 5-7, 7-5, 7-6
Click here to read the article
MP VARTKES MAHDESSIAN TO SPONSOR ANNUAL VISITS OF NAREG GRADUATES TO ARMENIA
Gibrahayer e-magazine - Nicosia - A unique opportunity for all graduates of Nareg schools is a reality as of this year, by the kind support of Armenian MP Vartkes Mahdessian, in cooperation with the government of the Republic of Armenia.
What in the past, was a privilege for the very few, has become a reality for the many. Starting from the summer of 2010, graduates of Nareg Schools will visit Armenia for two weeks every summer, with Vartkes Mahdessian covering all the costs of their air tickets and visas, while arrangements have been made by the Armenian MP, that the government of the Republic of Armenia (will) covers the costs of food, accommodation, as well as visits to historical sites.
As Mahdessian told Gibrahayer yesterday, the above was verbally conveyed to the Chairman of the Nareg Schools Committee a month ago, and in writing yesterday.
FACING UP TO HISTORY
The Economist, March 11 2010 - Not for the first time, Armenians sense a moment of vindication in their struggle for the acknowledgement of the tragedy that befell their forebears during the first World War. Turkey is angry. And America's administration is straining to limit the damage.
The latest Turkish-American rift over the Armenian question after a congressional committee voted on March 4th to recognise the killings of 1915 as genocide - looks wider than some previous ones. It coincides with a general scratchiness between America and its ally. Turkey is reluctant to slap sanctions on Iran. Anti-Americanism is running high among Turks. Some suspect that Barack Obama retains his view (expressed as a senator in 2008) that "the Armenian genocide is not an allegation...but rather a widely documented fact."
Still, the chances are that after a deep sulk, Turkey will send its Ambassador back to Washington, and the administration will persuade legislators to avoid a vote in the full House, for fear of wrecking an important relationship--and worsening the fading prospects for reconciliation between Turkey and Armenia. A tired diplomatic ritual will play out once again.
A happier ending?
Can any actor in this sorry drama do anything to improve the script?
One day a Turkish leader will be statesman enough to see that national dignity is better served by acknowledging the sins committed on Anatolian soil than by suppressing debate and punishing truth-tellers.
The rest of the article here: www.economist.com/opinion/displaystory.cfm?story_id=15663510
GENOCIDE MUSEUM DIRECTOR HAYK DEMOYAN DELIVERS LECTURE ON MUSEUM ACTIVITIES AND ON ARMENIAN-TURKISH PROTOCOLS
Press release by The Committee of the Kalaydjian Foundation - 16 March - On Saturday the 13th of March, the Director of the Armenian Genocide Museum in Yerevan Hayk Demoyan, gave the Armenian Cypriot community a detailed and highly informative lecture on the history and activities of the Genocide Museum and on the possible consequences of the Armenian-Turkish Protocols signed last year. The lecture, which also included a slide-show presentation of photographs and newly-acquired material, took place in front of around 120 community members and was organised by the Kalaydjian Foundation under the auspices of His Eminence Archbishop Varoujan. The event was attended by the Armenian Representative Vartkes Mahdessian, by representatives of all political parties and organisations, and by the former Assistant Secretary General of the UN Benon Sevan, amongst others.
In his speech Demoyan listed the various milestones in the history of the Armenian Genocide Memorial and Museum at "Dzidzernagapert" in Yerevan, and explained that a large-scale expansion of the Museum's facilities is planned in the near future, which will allow for a better and more effective display of recently-acquired material. He also stated that numerous foreign heads of state had visited the Museum in recent years and signed the Visitors Book. Hayk Demoyan also stressed the importance of the Museum's new "Bedros and Aram Kalaydjian Collection", which comprises rare books, original period postcards and newspapers, maps and other items that relate directly to the Armenian Genocide of 1915-1923 and which was acquired by the Museum during the last two years. These items will officially be put on display next month and it is the Museum's intention to send them abroad as a temporary exhibition entitled "The Armenian Genocide: Frontpage Coverage".
Demoyan then expanded his speech to include the subject of the Protocols that were signed by Armenia and Turkey last autumn. He stressed that the Protocols do not call for the creation of a commission tasked with examining whether the Genocide actually took place or not. The Armenian Government's position on this, he said, has always been very clear, namely that any commission formed as a result of the Protocols would deal solely with the consequences of the Genocide and how those consequences can be overcome.
Recently published books by Hayk Demoyan were also presented to the Armenian community. The lecture then concluded with a question and answer session and was followed by a cocktail reception.
Khosrov and Shabouh - Editorial by Jean Ipdjian
Yesterday I watched the video clip of

Crosswalk, the current affairs program of RT Moscow, presented by Mr. Peter Lavelle. The title of the program was Turkey's Burden and it was a discussion regarding the recent adoption of Resolution 252 for the recognition of the Armenian Genocide by the US House of Representatives foreign affairs committee about ten days ago and the successful vote of the Swedish Parliament for the recognition of the Armenian Genocide despite the wishes of both governments. As expected, both have resulted into the recall of Turkey's ambassadors in both countries 'for consultations'. As expected Turkey has gone into it's customary rage, which is the given norm every time a country

recognises the Armenian Genocide.

The panel of Crosstalk consisted of Mr. Robert Fisk, who is the Middle East correspondent of The Independent newspaper, Yelena Kanga a member of the Crosstalk team, Mr. David Sultzman of the Turkish Coalition of America of Washington and Mr. Sinan Ulgen of the Istanbul Economy Consulting from Brussels. In short, Mrs. Khanga was presenting the Russian stance towards the Genocide, Mr. Fisk considered it an undeniable fact while Mr. Saltzman and Mr. Ulgen were the rejectionists. Actually not the rejectionists, because for some time now Turkey, as part of it's newly tailored Sunday attire, no longer publicly rejects the accusations per say, but suggests that the whole matter should be examined by historians and proved to be one way or the other. Just the same way as, she publicly promises to do her utmost to assist in the finding of a just and durable solution to the Cyprus problem. Just the same way as she acted in her Sunday attire in the rapprochement talks with neighbouring Armenia, which resulted in the signing of the infamous Protocols.

Most probably, as Mr. Fisk in the video clip pointed out the resolution has very little chance of passing from the full House and much less from the Senate, pointing out that Secretary of State Mrs. Clinton would make sure of that. And again as in the past, the unashamed hypocrisy of successive US administrations and presidents would raise its ugly head.

So why the hysteria?

Why is Turkey so adamantly horrified of the prospect of the recognition of the Armenian Genocide by different countries, as is happening one by one, and specially from a giant and sole super power like the United States.

The answer is simple. If there was a Genocide, then there are people, people who seized to exist in a matter of weeks and months, and these used to live somewhere, had property, goods, animals. So what happened to all this wealth? And more importantly, these people lived on LAND. That is the key issue which has and continues to petrify successive Turkish governments.

And as for the Sunday attire that nowadays Turkey likes to put on in front of

her European neighbours, such matters as the recognition of the Armenian Genocide, or complications in the negotiations in Cyprus, which inadvertently result in her taking off her Sunday attire and showing the 'yataghan' (Turkish scimitar) in her belt, enormously frightens the Europeans, even friends such as the United Kingdom, thus making it more difficult for them to accept her as fellow 'Europeans'.

Something, which seems to be part and parcel of her long-term strategy.

Leaders of neighbouring countries who have issues with Turkey, and truthfully I can't think of one except pseudo-neighbour Azerbaijan, should bear in mind the 'yataghan' underneath the Sunday attire and should not add feathers to that seemingly peaceful and good-neighbourly appearance.

Once upon a time in ancient Armenia we had a king called Khosrov. After one of the continuous battles with the Persian Shah Shabouh, Khosrov was beaten and taken to Tabriz to the Shah. There Khosrov started begging the Shah's forgiveness and promising that he would become a loyal vassal of the Shah and Persia. The wily Shabouh decided to test him. So he ordered the ground before his throne to be half covered by Persian soil and the other half by soil brought from Armenia. He then orders for Khosrov to be brought to him.
He takes Khosrov by the arm and starts discussing with him future plans, walking from one side to the other on the different soils. Khosrov shows himself to be like honey when on Persian soil, promising loyalty and friendship to the Shah, but turns into a raging lion as soon as he steps over the Armenian soil. Seeing this, the Shah orders him to be skinned alive and his skin to be filled with hay and hung from the gates of the city.

Maybe Europeans should try this on Mr. Erdogan, on Mr. Gul and all the other high ranking officials in Turkey? As for us Armenians, we should apply this test to all the aspiring politicians bearing gifts to us for our votes.
Advice to Prime Minister Erdogan:


"Continue Denying the Armenian Genocide"
Prominent Turkish commentator Can Dundar wrote in Haber1 an article titled: "Are we going to recall all our Ambassadors?" He stated that, at this rate, by the time the 100th anniversary of the Armenian Genocide rolls around in 2015, there won't be a single country left not accusing Turkey of genocide. Isn't it about time that we search out what dirty work our fathers did 95 years ago? Shouldn't we ask what did we do wrong, Dundar implored.

For the complete must-read article by Harut Sassounian click here
www.gibrahayer.com//index.php5?page_id=27
7or.am - Սերժ Սարգսյանի «ֆուտբոլային» դիվանագիտությունից մնացին միայն գնդակները
...
Read in this week's PHILELEFTHEROS Periodical
" Pages of Cyprus "
dedicated to the 12 "GREAT CYPRIOTS"
Click here to view the file dedicated to Music Master
VAHAN BEDELIAN
you can also read the Periodical here: www.activeedgemedia.com/mail/vahanbedelian.pdf
News in Brief by Sevag Devletian
The only European state giving full support for Turkey's EU bid, Sweden, approved a resolution recognising the 1915 mass killing of Armenians in Turkey as Genocide. Following the resolution approval, Turkey's Prime Minister Recep Tayyip Erdogan cancelled his visit to Stockholm and Ankara recalled its Ambassador to Sweden Zergun Koruturk immediately after the vote.

Many Turkish citizens of Armenian descent have called on third countries not to involve themselves in historical disagreements between Turkey and Armenia while the two countries are in the process of resolving these issues and normalising their once-tense bilateral relations.

The European Bank for Reconstruction and Development (EBRD) will provide a 15-million euros loan to Yerevan underground railway for a major reconstruction. The loan is repayable in 15 years with a three year grace prod and 1% interest rate. The money will be spent on improving passenger safety by upgrading its rail cars, escalators and network of underground cables.

The Armenian President's press office issued a statement on Friday, which said the US State Secretary Hillary Clinton conveyed to Armenia's Serzh Sargsyan President Obama's invitation to attend the Global Nuclear Security Summit in Washington mid-April during the tele-conversation made at the initiative of the American party. Clinton voiced hope that the parties will continue discussing bilateral, regional and international issues in Washington.
With "A musical pilgrimage across five continents", the Cyprus Symphony Orchestra celebrates Easter, under conductor Spiros Pisinos and soprano Sona Gargaloyan and tenor Berj Karazian

visit the website of the Cyprus Symphony Orchestra by clicking here or on the image
Quote of the month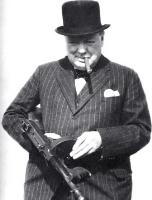 "In 1915 the Turkish Government began and ruthlessly carried out the infamous general massacre and deportation of Armenians in Asia Minor. Three or four hundred thousand men, women, and children escaped into Russian territory and others into Persia or Mesopotamia; but the clearance of the race from Asia Minor was about as complete as such an act, on a scale so great, could well be… . There is no reasonable doubt that this crime was planned and executed for political reasons. The opportunity presented itself for clearing Turkish soil of a Christian race!"

WINSTON CHURCHILL - (Recently voted "THE GREATEST BRITAIN")
The World Crisis, vol. 5, "The Aftermath"
(New York: Charles Scribner's Sons, 1929)
Letters to The Editor
Dear Editor,
I like the articles, but I don't like the photo-montage of Obama as a Nazi leader and I doubt Robert Fisk would approve of it.
First, despite the fact that Obama's games with the Genocide are shameful, the man is no Nazi, he hasn't built death camps and doesn't speak of sub-races, of vermin and of Lebensraum. Criticism and insult or insulting exaggeration are different things, and the latter, as a rule, does a disservice to its author. Consider Erdogan's credibility when he calls the killing of 200 hundred Ughurs a "genocide", or what it sounds like when Israeli soldiers are called "SS".
Second, this amounts to minimise or relativise the actual crimes committed by actual Nazis and is awful for Holocaust survivors. Therefore it is likely to alienate our Jewish supporters and other friends. Given that our cause is 100% right, there is no need to resort to such cheap illustrations. Instead, we will be best served by dignity at all times. I have heard that the debate between Sevan Nichanian and Halacoglu was a disaster, that Nichanian became angry and insulted Halacoglu, and that consequently the Turkish viewers didn't even feel like looking up the Genocide somewhere or finding a book to learn something about it. Let's avoid such mistakes.
Sorry for being straightforward. But go on with the good work. Best regards- Virginie Papazian, Marseilles
---
Dear Editor,
My patriotic priorities compel me to write to your magazine to submit my views if I may, on the published article titled "Meddling by Armenian non-political organisations in political affairs benefits Turkey, not Armenia" of last Thursday,4/3/2010.
Thanks to the author of above article the following observation would deem appropriate if we consider the following:
As a consequence of genocide a great majority of us live in so many different countries where a number of "make do" communal centres were established to serve the needs of the local community.Of course, these centres served well in the interest and benefit of their communities, such as religious,national, cultural,sporting and political activities which were established barely to cope with the then local basic needs. As we all know, the above mentioned centres came into existence with a lot of volunteer hard work. It is also a known fact that some centres followed diverse political ideologies with active members being too busy pushing forward in what they believed to be right. For many decades, however it may be right or not it is not within the scope of my views.
Because of our national tragedy the Diaspora and Armenia proper suffered and survived hardship for almost a century starting from scratch with bare essentials, of course, this never helped in policy making to tackle future issues. We need to move ahead and need guidance and directions, but there already too many of them around, well, it is evident that we need a national code of conduct so to speak, then let us explore what we are missing. We are missing a link, the missing link is Infra Structure, Infra Structure for the Diaspora, Infra Structure for Armenia, (the Armenian constitution would need to align itself with Diaspora Infra Structure). Infrastructure is a unified policy for plans, decisions and actions.
Infrastructures meet on a platform, the platform is the launching pad with the ultimate goal for best action results. A platform connecting such Infra Structures is a powerful tool for Diaspora-Armenia liaison for optimal strategy and action, in that it helps make sound decisions in taking appropriate steps towards gaining the best possible recognition for our claims with commanding global respect. The Diaspora may have no less academics, historians and Geo politicians who enjoy a broader view and expertise to go with as compared with those in Armenia. So far so good! The Infra Structures promote and efficiently accelerate understanding external issues for measures to be taken by way of Armenia-Diaspora consultations to help make the best possible global representation on a unified national front to pursue our claims and settle disputes, (for this matter we will need the services of most expert negotiators and facilitators).
The point is to put in place and implement a liaison strategy that would connect and unify the efforts of each and every centre to create a global Armenian Infra Structure irrespective of diversity of ideology, for it to lay the groundwork for a policy standard to serve as a national guidance, specifically on external issues. Our lobbying actions would then generate enough impact on the political arena to make ourselves heard most effectively. I very seriously believe we all have to take immediate action to establish a global Infra Structure if we are to avoid any such spurious repetitions of unqualified and unprofessional misrepresentations to the detriment of our national cause as was mentioned in the above article.
Infrastructure is a plan of action and is independent of ideologies, because we have to plan ahead we have have to avoid being so romantic, we need to do what we have to do today without delay and without getting side tracked for once.
With kindest regards - Barkev Sarkissian - Alexandria-Egypt
---
Dear friends,
Some of you have already received this letter and helped Elena. Thank you so much for your contribution. Unfortunately, we are still far from raising the amount that Elena needs and I decided to ask again for your support.
Our dear friend and colleague has been struggling with cancer for over a year now. Several rounds of chemotherapy didn't help and Elena now needs a surgery - bone marrow transplant. She will be doing the surgery in St. Petersburg, so that the surgery itself is free. The bone marrow donor and supporting medication is what Elena needs to pay for. You can read more about her on our website at
www.evans.ru/helplena

. To see her profile click here

http://advita.ru/en/EAdam1.php
Please consider contributing to help Elena. You can make your contribution by wire transfer in rubles, dollars or euros (bank details available at the link above) or make a cash donation - we'll be happy to pick it up and deliver it to Elena.
Thank you,
Anya Levitov-
anya@evans.ru
-Managing Partner-Evans Property Services- +1(212)3430600 nyc office
---
I am very saddened by the fact that yet another and one of the last green areas of the capital Yerevan is destructed in order to "make room" for the construction of a car parking of an elite building of the elite (according to some reports the residents of the building are "top level" government officials). In a developed country, if something similar happened the mayor and all the ministers involved would tender their resignation, however in Armenia, it seems nobody is punished whatsoever.

www.armenialiberty.org/video/6227.html
Hagop Manougian - Nicosia
GORE MELIAN LIVE ON "PERFORMANCE"
SUNDAY 21 MARCH
Gibrahayer emagazine Nicosia - 22 year old Gore Melian, will be appearing at the "Performance" talent show which will be aired on RIK1 at around 9:30 pm on Sunday 21 March, 2010.
Gore Melian of Nicosia, who was also a third place Eurovision candidate for Cyprus last year, is a strong favourite to win the song category.
We urge our Gibrahay subscribers to participate in the televote and support Gore Melian on Sunday evening.
......
GIBRAHAYER CALENDAR
Wednesday, 17 March - after the 6:00pm Lenten Vespers (Hsgoum) in Sourp Asdvadzadzin cathedral, Nicosia, the Christian Education Committee of the Armenian Prelature is organising lecture Nine of a series on the role of the Armenian woman in our collective life: "The Armenian Woman in Public Life", by Sara Vorsganian, on the occasion of the "Year of the Armenian Woman" as proclaimed by His Holiness Aram I, Catholicos of Cilicia.
Friday, 19 March - after the 6:00pm Lenten Vespers (Hsgoum) in Sourp Asdvadzadzin cathedral, Nicosia, the Christian Education Committee of the Armenian Prelature is organising lecture Ten of a series on the role of the Armenian woman in our collective life: "The Armenian Woman in Modern Times", by Vart Karargulleian, on the occasion of the "Year of the Armenian Woman" as proclaimed by His Holiness Aram I, Catholicos of Cilicia.
Friday 19 March at 7:30 pm - Gallery Rouan invites you to a visual art exhibition by Tatiana Ferahian by Dr Nadia Anaxagorou (Director of Cultural Services, Limassol Municipality). Duration: 19 March - 3 April. Monday – Saturday 10.30 - 13.00 & 16.30 - 19.00.
Saturday 20 March at 4:30 pm - Exhibition of Easter Eggs and Flowers by Irinoulla Constantinidou, organised by the Church Women's Committee at Te Utudjian Hall of the Armenian Prelature.
Wednesday, 24 March - after the 6:00pm Lenten Vespers (Hsgoum) in Sourp Asdvadzadzin cathedral, Nicosia, the Christian Education Committee of the Armenian Prelature is organising lecture Eleven of a series on the role of the Armenian woman in our collective life: "The Armenian Woman facing the Challenges of the 21st Century", by Vera Tahmazian, on the occasion of the "Year of the Armenian Woman" as proclaimed by His Holiness Aram I, Catholicos of Cilicia.
Friday 26 March - after the 6:00pm Lenten Vespers (Hsgoum) in Sourp Asdvadzadzin cathedral, Nicosia, the Christian Education Committee of the Armenian Prelature is organising lecture Twelve of a series on the role of the Armenian woman in our collective life: "The Elderly Armenian Woman Then and Now", by Anahid Eskidjian, on the occasion of the "Year of the Armenian Woman" as proclaimed by His Holiness Aram I, Catholicos of Cilicia.
Sunday 28 March - Dzaghgazart and Tapor at Sourp Asdvadzadzin Church.
Sunday 28 March - The Nareg Parents Association will be selling Dzaghgazart candles at the Sourp Asdvadzadzin Church entrance and after the service, it will hold a raffle. The prize is a bicycle from www.Micromania.com.cy
Sunday 28 March at 4:00 pm - The Armenian Relief Society (HOM) "Sosse" Cyprus Chapter is organising its annual Easter Charity Tea and Bazaar at the AYMA Club Nicosia, to support its Cyprus charity activities, as well as its projects in Artsakh and Armenia. Entrance €10 per person. During the event, a raffle (at 10 euros per ticket) will take place for a King Size Hand-Made Patchwork Quilt. The draw will take place the same day.
UPCOMING 1 - 28 March to 5 April 2010 - in Nicosia, Larnaca, Limassol and Paphos - Palm Sunday, Holy Week and Easter services.
Saturday, April 3 at 4:00 pm - Armenian Evangelical Church service for Easter, in Greek Evangelical Church, 20 Gladstonos street, Nicosia. Guest speaker: Rev. Vartkes Kassouni (Armenian Cypriot from USA).
Saturday, April 3, 2010, at 5:00pm - Easter Message from the Armenian program of CYBC. Speaker: Hrayr Jebejian.
Saturday 10 April at 7:30pm - The "Sipan" Dance Ensemble of Hamazkayin Cultural and Educational Association Cyprus "Oshagan" Chapter presents its 10th anniversary performance of Armenian traditional dances at the Strovolos Municipal Hall in Nicosia. Director Janna Tahmizian.
Friday 23 April - Armenian Genocide Commemoration march on Armenia street and Hsgoum at Genocide Memorial organised by the Commemorative Committee.
Saturday 24 April - Commemoration of the 95th anniversary of the Armenian Genocide at PASIDY Hall. Keynote speaker: Cyprus Euro-Parliamentarian Ioannis Kasoulides.
Sunday 2 May at 8:00pm - The "Timag" Theatre Company of Hamazkayin Cultural and Educational Association Cyprus "Oshagan" Chapter presents "Baghdasar Aghpar" at PASYDY Hall in Nicosia. Director Janna Tahmizian.
Sunday 9 May - Pilgrimage to St. Magar Monastery - organised by the Office of the Armenian Representative Vartkes Mahdessian. Details to follow.
UPCOMING 2 - Weekend of Saturday 1st and Sunday 2nd of May 2010 - in Sourp Asdvadzadzin cathedral, Nicosia - Traditional Feast Day of Sourp Magaravank, with Herisa Preparation and Blessing.

Arevakal (Lenten Matins) commence in Sourp Asdvadzadzin cathedral, Nicosia on Wednesday 17th February and will be held every Wednesday and Friday at 7:40 am.

Arevakal (Lenten Matins) commence in Sourp Stepanos church, Larnaca on Wednesday 17th February and will be held every Wednesday at 7:40 am.

Arevakal (Lenten Matins) commence in Sourp Kevork church, Limassol on Friday 19th February and will be held every Friday at 7:40 am.

Hsgoum (Lenten Vespers) commence in Sourp Asdvadzadzin cathedral, Nicosia on Wednesday 17th February and will be held every Wednesday and Friday at 6:00 pm.

Hsgoum (Lenten Vespers) commence in Sourp Stepanos church, Larnaca on Wednesday 17th February and will be held every Wednesday at 4:00pm.

Hsgoum (Lenten Vespers) commence in Sourp Kevork church, Limassol on Friday 19th February and will be held every Friday at 4:00 pm.

Friday 4 June 2010 - The Armenian Relief Society of Cyprus (HOM) is organising a Gala Dinner on the occasion of the 100th Anniversary of the Armenian Relief Society at the STOA Restaurant. Welcome drinks at 8:30 pm. Dinner at 9:00pm.
Gibrahay Sports by Sevag Devletian
Former Nareg student 14 year-old Elena Kaprielian won Gold at the Nicosia Athletic Games that was held at GSP Stadium on Monday 15 March by jumping 1.50, which is 10 centimetres less than her personal best of 1.60. The Cyprus Women's High Jump record stands at 1.90. She will now represent Nicosia in the Pancyprian Games that will be held in Larnaca on 15 April. Click

here

to view her winning jump at the Nicosia Elementary School Games, four years ago.

AGBU Ararat FC lost 4-3 to rivals Omonia FC in the final game of the season of the Cyprus Futsal Premier Division. Despite the loss, Ararat were officially crowned champions. Highlights from the trophy presentation game can be seen at

www.youtube.com/araratcyprus#p/a/u/0/OvWpfTVQOuE

.

AYMA/HMEM lost 3-1 to Synergatiki Etaireia Mihanografisis (SEM) in the Cyprus Amateur Football 2nd Division. Poor refereeing and unjust decisions resulted in AYMA/HMEM registering a loss.

Homenmen lost 3-2 to Promitheas Anthoupolis in the 3rd Division of the Cyprus Futsal League. Despite the loss, Homenmen have secured a place in the playoffs for promotion to the 2nd Division.

Ararat FC U-17's defeated Apeleftherosi FC U-17's 3-2 in the Cyprus U-17 Futsal Championship.
Armenian Sports by Sevag Devletian
FOOTBALL: MLS Los Angeles Galaxy striker Alecko Eskandarian's attempts to overcome a concussion suffered during a friendly match with AC Milan last year have hit what seems to be a permanent roadblock. The 27-year-old attacker announced via his Twitter feed that he was stepping away from the game.
FOOTBALL: A preliminary agreement of cooperation was signed by AS Roma, Francesco Totti's football academy and FC Pyunik.
FENCING: Armenian fencer Armenak Gasparyan (foil) won bronze at World Youth Cup held in the Iranian city of Yazd. According to General Secretary of Armenian Fencing Federation Artashes Madoyan, on April 26 and 27, 'our athletes will take part at the European Fencing Championship under 23 years to be held in the Polish city of Gdansk.
WEIGHTLIFTING: Between April 2-11, the European Weightlifting Championship 2010 will be held in Minsk, Belarus. Armenian sportsmen Smbat Margaryan (56 kg), Arakel Mirzoyan and Tigran Martirosyan (77 kg), Gevorg Poghosyan and Edgar Gevorgyan (85 kg), Arthur Babayan (105 kg), Ruben Alexanyan (105 kg), Meline Daluzyan (69 kg) and Hripsime Khurshudyan (75 kg) will attend the championship.
CHESS: Armenian grandmaster Levon Aronian has lost 2 blindfold chess games at Amber Blindfold and Rapid Tournament going on in Nice, France. Currently, Aronian is ranked 11th in the tournament.
CHESS: The 11th European individual men and women's chess championship in Croatia, Rijeka hosted 7th tour matches on March 12. Having gained a victory, Vladimir Hakobyan occupies the 8th position with 5,5 points. Lilit Galoyan tied against European championship leader Monika Socko (Poland), gaining the 5th position with 5,5 points.
WUSHU: In Antalya, the 13th European Wushu Championship came to an end. Armenia was represented by 11 participants at the championship. Moushegh Khatchatryan (56 kg) and Davit Grigoryan (48 kg) won gold medals in their respective weight categories resulting the Armenian flag to be raised and national anthem to be played on both occasions.